6 Reasons Why You Need SEO For Your Business?
Did your website take off? Did you become a millionaire overnight and swim in a pool of money like Scrooge McDuck? If you have yet to learn the wonders of search engine optimization and its positive effects on your business, It's time to wake up and smell the coffee. If your website is not optimized for search engines, It'll be like a dead fish found floating in the water. So, why does your business website need SEO? That's crazy talk! Well, my friend, SEO is no longer optional. And It's not only for google search here. 
Search engine optimization is needed for the people who find you after a link on Facebook or Twitter. Once you have accepted these facts, the next logical question is how to implement search engine optimization.
In this blog, we'll figure out why SEO is important for businesses and the various SEO techniques that can be used to improve your online visibility
SEO stands for Search Engine Optimization, which is the practice of increasing the quantity and quality of traffic to your website through organic search engine results. This involves identifying keywords and phrases that your target audience uses to find products or services like yours. After that, it is crucial to rank well for those searches.
6 Reasons why your business needs SEO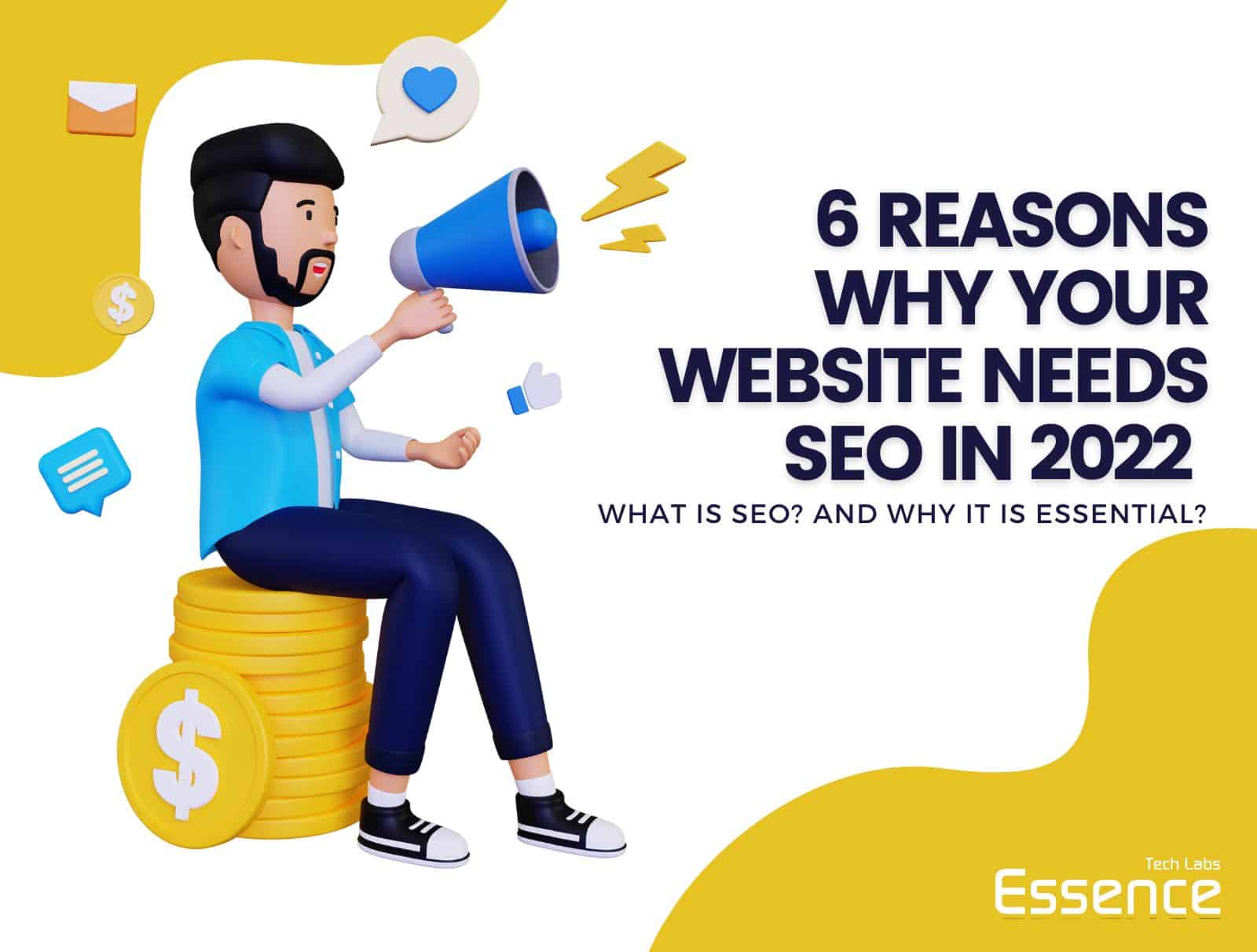 SEO is now an integral part of any successful marketing strategy. Let us look at a few reasons to optimize your site to fully demonstrate its importance.
It can help you to build your brand:
While branding is often considered a more traditional marketing strategy, SEO is firmly in the digital category. Both involve the same ways. When building a brand, you need to consider both what you offer, and what others think. When you look at the steps involved with optimizing a website, they are almost identical. First, you must create content relevant to your audience's interests and needs. Then, find ways to gain links to this content on other sites. When you make your SEO strategy, keep this in mind.
You can choose keywords and create content in line with the image you want for your brand. This will allow you to create an online brand that reflects your ideal branding and helps you reach your target audience.
A well-optimized website will drive more traffic or visitors:
As you know, the main goal of SEO optimization is to improve search engine results page rankings. However, it is not enough to achieve high rankings. You also need to attract more visitors and, in the ideal case, convert those visitors into customers or leads. In case you were wondering, It works. You can take a look, for example, at the Organic Traffic Report that Siege Media has provided.
The site's traffic increased by 100% from SEO over the past year. SEO is the best way for you to attract more visitors to your site.
SEO doesn't require that you spend money on Ads.
One of the best advantages of SEO is you don't need to spend money on any Ads. And you can take long-term benefits from it. You decide where your brand should appear on TV, radio, or print. Next, you pay the company that owns the media for placement. You may pay to have your ad run for a set amount of time or a particular number of issues.
Once that period ends, your ad ceases to appear, and your business stops producing results. Take a look at the different pages appearing in search engine result pages. The two top listings in this screenshot are PPC ads (pay-per-click), as indicated by the small "Ad" tag. Similar to traditional ad campaigns, earning a spot requires ongoing expenses.
PPC is a form of pay-per-click advertising that allows users to visit a site and click on ads. This is a significant advantage over traditional methods. Every visitor has a cost, and if an advertiser stops their campaign, they cease to show up. The sites that are listed in the organic results, right below those ads, don't have to pay anything for their rankings. Although they may have spent considerable time and money to create the pages that rank in those spots, they now appear on page 1 because Google's algorithm believes they offer value to users. This is how they are able to earn traffic without spending anything.
It helps your targeted audience to find you online:
SEO can help your company reach your target market as they actively search for information. According to a study, 62% of the consumers takes help of search engines while selecting anything online whether it is a service, product or a company. And 41% of the customers converts after they search on search engine platforms. According to the same study 42% of the consumers prefer visiting the business's website to explore about more. This means that you must ensure your business appears in search results related to your products or services if you want it to be part of an online user's research. So having a strong digital presence help your business or your website to reach your targeted customer in wide range of audience.
It enhances your authority & credibility:
Many businesses have seen a dramatic shift in the way they sell products and services through the Internet. Because today's consumers have easy access to many helpful resources that can help educate them about their options, before speaking with a sales representative. You can also be a part of this learning process by optimizing your SEO. This is especially true if your SEO efforts are combined with content marketing. If you provide valuable and informative content, you can establish trust with potential customers at an early stage of the research phase.
It can help you stay upfront from your competitors:
As you know, Google is a user-centric search engine, and its ultimate goal is to provide the best possible results to its users. Optimizing your site is not only about improving the position of your site on search results pages. You are also moving faster than your competitors. Take into account that the first result from any given results page is 20.5%. The second result got 13.32%, while the third received 13.14%. You will get more clicks from your target keywords as you increase search results. Your competitors will not earn the same percentage.
Some important SEO Tools:
Here are some of the important SEO tools that are used to do Search Engine Optimization You can simplify and improve your online visibility by using a variety of tools.
Tools for better Keyword Research:
A successful SEO campaign starts with keyword research. Many tools are available to help you choose the right keywords for your company.
Tools used for On-Page SEO:
Search Engine crawlers read the content in the form of HTML codes. So, it needs to be optimized well to rank website for the better rankings. Here are some of the tools used for optimizing on-page SEO activities.
Tools to monitor analytics of a website:
You should measure the effect of changes made to your site. These two tools are great for monitoring your results.
Tools used for improving OFF-Page SEO Activities:
SEO also includes off-page optimization. This involves gaining backlinks. It is one of the most powerful ways to identify potential link-building opportunities. These two tools are excellent options for this task.

As you can see, there are plenty of things that you can do to improve your website's SEO. Whether you're just starting out, or if you've been around a while and just want to make sure that visitors are finding your content. These tips are sure to get your ranking sky-high in no time.
The role of SEO is expanded crucially in this digital era. SEO brings a lot of business growth opportunities for all size businesses whether it is small or enterprise businesses. Every business should start by finding a trustworthy, reputable, and best SEO company to grow your website's organic traffic. Essence Tech Labs is the best digital marketing agency in Ontario. We'll take a look at your current digital presence and provide you with detailed feedback, insight, and tips to help you promote your business more effectively. And we will help you to make cracking strategies to grow your startup business, as we are consulting startup businesses in Canada. 
Connect with our specialists to know how you can make an indispensable
Essence Tech Labs is the best digital marketing company in Ontario, Canada. We help businesses or enterprises to build their successful digital businesses. We are top-rated IT solutions providers in Canada, we bring tech into your ideas.